Family-friendly and suitable for children
City breaks with children are not always plain sailing. Children can often find art and culture boring, feel trapped in hotel rooms and the streets can be dangerous. But families can discover that it doesn't have to be that way in Dresden if you stay in one of the Aparthotels An der Frauenkirche. The generous apartments are specially designed to suit the needs of families with children. Here the little ones not only have their own room, enough room to play and a quiet place for a midday nap – upon request we can also provide changing mats or child's toilet seats.
But what is even more attractive is everything outside, right on your doorstep, waiting to be discovered: Right opposite you can experience the "mobile world" in the Transport Museum. At the nearby embankment, you can watch the steamboats go by or take a steamboat tour along the river Elbe. At the Altmarkt Gallery there is a large playground and the Elbwiesen green spaces are great for running around. Even the Hygiene Museum with lots of things on offer for its younger visitors and is not far away. Parents and grandparents can also benefit from the family-friendly environment. Because when the kids are having fun, they can spend a couple of stress-free days in the Florence on the Elbe.
"We are really surprised at how relaxed things are here with children", say a couple from Upper Franconia, who are visiting with their nine-year-old daughter and their four-year-old son. "When we've been to look at something, both of them need a bit of a rest. Because of the great location, we can get back to the apartment really quickly so they can take a break and have something to eat. It's also nice that there are hardly any cars in this area".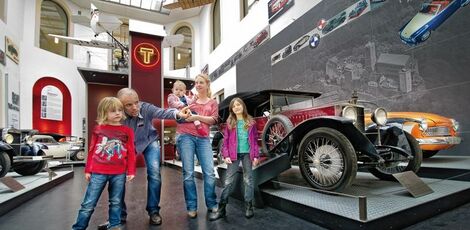 Discover the Transport Museum, right at Neumarkt
nd immerse yourself in the mobile world and the history of vehicles. For both children and adults, this is a journey through a whole range of interesting facts, both old and new, and it offers plenty of freedom to try things out.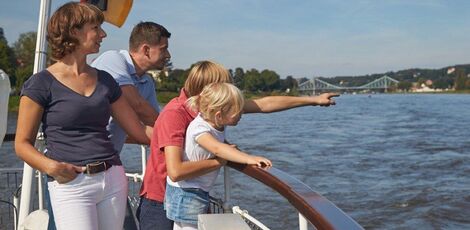 Straight from the apartment to the steamboat jetties
After just a few minutes' walk, you can take a tour on the water. This will give you a totally different, amazing view of Saxon Switzerland or Dresden's castles.