Home comforts for tour groups
"We're repeat offenders!", chimes the cheerful group entering the Aparthotel Neumarkt. "Dresden has so much to offer, one visit is simply not enough". The eleven members of the bowling club from north Germany are spending a long weekend in Dresden for the third time. "And while we're here, we obviously don't want to be staying somewhere on the outskirts – we want to be in the centre where it's all happening", is the unanimous view. That's why they booked an Aparthotel An der Frauenkirche again this time around. The bowlers can now look forward to group activities and spending a couple of days living almost like in a flat share.
Are you also planning a group trip to Dresden? Perhaps you want to go to an exhibition with colleagues, to a concert with friends or simply enjoy the magical atmosphere of the city and its many sights. The Aparthotels An der Frauenkirche are perfect for any tour group – whether young or old, for business or pleasure, organised yourself or via a travel agent. From our comfortable, friendly apartments it's just a few steps to the tourist highlights, such as Dresden Castle, the Fürstenzug mural, the Zwinger palace or Semperoper opera house. You won't need a car here. Everything is just a few minutes' walk away – including stops for buses, tramps and city tours.
The apartments combine hotel comfort and service with the convenience of a holiday home. Particularly attractive for groups: Shared accommodation and flexible occupancy for rooms. Self-caterers can expect a fully equipped kitchen where you can easily prepare a nice breakfast or even a 3-course meal. Those who prefer a restaurant service only need to step out the front door. Cafés and restaurants around Neumarkt and throughout the whole city centre offer culinary delights for every taste.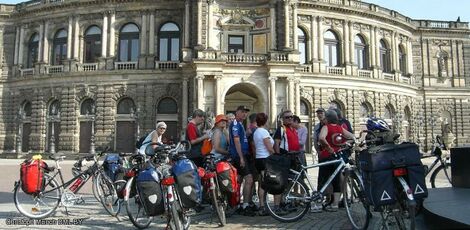 Discover Dresden together
Those travelling in a group will benefit above all from the location of our houses. Ideal for public transport connections and within walking distance of several of the main sights, these accommodations will turn the group's trip into an unforgettable experience.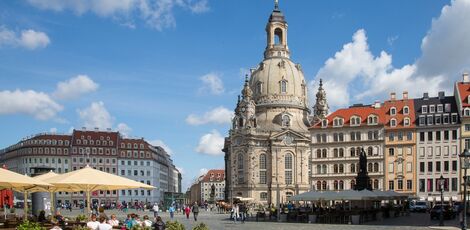 Hotel comfort and service
Contact us and together we can plan how your group can be arranged into different rooms or apartments depending on the size and make-up of your group. Self-caterers can express themselves in the kitchen or enjoy a cosy breakfast. Cafés and restaurants also await you at and around Neumarkt.